We continue our focus on rainbows and introduce the rainbow pride flag. Children are immediately drawn to its majesty. We talk about what pride means (feeling good about yourself) and what the flag symbolizes (welcoming ALL families). While the scope of the pride flag and LGBTQI liberation is broader, we start by sharing that the flag affirms families with two moms or two dads.
Family Share
We add photos of families waving pride flags and celebrating at past pride parades. We invite children to notice what they like about the pictures. Most can't resist the vibrant color of the flag or the costumes people are wearing. Lots of children want a chance to wave the glorious flag. I decide to order a bunch of smaller versions that we can revisit and distribute later in the school year.
Activism
We read Sewing the Rainbow: The Story of Gilbert Baker and the Rainbow Flag by Gayle E. Pitman/Illustrated by Holly Clifton-Brown to honor the activism of "Gilbert Baker, the rainbow flag maker."
I share a bit about the 2015 supreme court ruing in favor of marriage equality eager to share two photos of the white house– a standard representation and one in which the white house is illuminated in rainbow lights in celebration of the supreme court ruling. I name that lots of people worked hard for many years to help influence the change to make things more fair for women who love women and men who love men.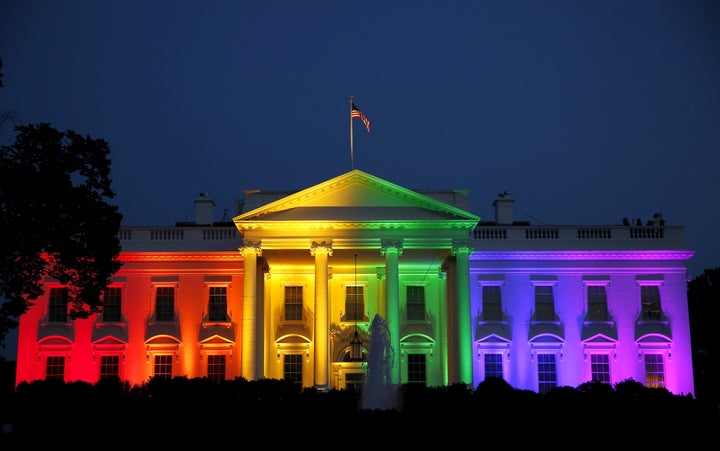 Photo: Gary Cameron/ Reuters
Building Rainbows
Children access a wide range of materials from magna-blocks, to colored window blocks, to mosaic blocks, to a giant sparkly floor puzzle. Rainbows are constructed out of each medium.
We share some of our favorite books featuring various family configurations and will revisit these in small groups over the next few weeks.
Here's a clip of one of our moms reading from the tail end of Families, Families, Families and receiving the ultimate reward from her daughter.